Timely access to information
Timely access to information is a pre-requisite for making good business decisions. When end-users have to wait for the IT department to provide them the information they need, more often than not they don't get the information in a timely manner. Pebble Reports solves this problem by enabling end-users to create and modify reports themselves without waiting on the IT department.
Easily create reports
Build reports consisting of tables, charts and crosstabs
Work directly on data (no "layout mode")
Conditional formatting without writing code
Build complex filters graphically
Full-featured graphical Query Builder; supports SQL Server, Oracle, MySQL and OData
Microsoft Office look & feel
Enable end users to modify reports themselves
Free up your IT department's resources by allowing your end users to make most types of changes themselves:
Change the sort of a column
Change the grouping, thereby change the sorting and subtotaling of the report
Add or remove columns to the report
Add a new column that is a calculation based on other columns
Add an additional aggregate to the report
Add an additional filter to the displayed data
Make many more types of changes
Share reports easily
Email reports via Outlook or SMTP as in-line HTML
Export reports to PDF, XLS, MHTML (to open in Word)
Print reports with full formatting
Publish reports to SQL Server Reporting Services
Perfect balance between power and ease of use
In the tradeoff between power and ease of use, ease of use must always come first. End users will not use a tool that seems too complicated. If the tool is perceived as complicated, either the [IT Department] will have to use the tool on the end user's behalf, or the tool will not be used.
— Data warehouse pioneer Ralph Kimball
Although its focus is on ease of use, Pebble Reports has powerful features such as write-back.
Reporting Services support
If you are a SQL Server Reporting Services customer you'll be glad to know that Pebble Reports supports RDL. Pebble Reports is the perfect companion to Report Builder. While Report Builder is intended for IT programmers to design production reports, Pebble Reports is designed for information workers to create ad-hoc reports. Pebble Reports can publish reports directly to Report Server.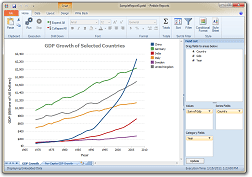 Download Pebble Reports today and instantly improve your productivity.